Welcome
Welcome to Tommaso Rusmi's website.
To find out more about Tommaso Rusmi please visit the
About page
.
Or you can browse Tommaso Rusmi's photos in
the Gallery
.
Lastly, if you want to contact Tommaso Rusmi, you can send
a message here
.
Tommaso Rusmi's gallery contains 150 photos.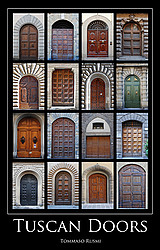 News
Book: Colours of Tuscany available for sale!
21st January 2009
A portrait of Tuscany explored in all seasons from the misty mornings in Val d'Orcia to the magic colours of the springs. Many images contained in the book are product of a unique stitching technique to join two or more shots in a panoramic format. In order to achieve the best dramatic effect, these image have been carefully composed and taken in the best light condition often at sunrise and sunset.
Read More
Gallery
Tuscany

(Contains 95 photos)
Images taken all around Florence, Chianti and the rest of Tuscany
United Kingdom

(Contains 21 photos)
All images were taken in England, Scotland and Wales in the last 4 years
Macro

(Contains 13 photos)
Wonderful macro world, flowers and insect in the full scale
United States

(Contains 10 photos)
Magic colours and landmarks of Unted States from California, Utah, Arizona to New York, Washington, Boston
Favourite

(Contains 1 photo)
my fav shots
Venice

(Contains 10 photos)